Sunday, February 19, 2012
mark. Golden Sandals
Save 49%
Gold mine! Not only are they super-versatile, a padded footbed makes them super-comfy, too!
Regular brochure price $26.00
Free shipping on $30 direct delivery order. Use code "FSC04" on checkout.
While supplies last
Offer expires at midnight on February 19, 2012
AVON Independent Sales Representative
Shop at my online Avon store
for all your needs to look beautiful and empowered as a woman. Check my blog daily for all the new specials and deals.

AVON News Daily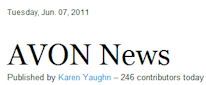 Read the "AVON News" Daily Published by paper.li

Recommend Me